Basic Things You Should Know About Your Wood Floor
When high traffic areas begin to look dull, it is time to recoat or restore the finish. Call our company for a free evaluation of the condition of your floor.
The recommendations made here are not intended to endorse specific products or brands but to serve as general guidelines in the selection and use of floor maintenance materials.
Except for any directions on using water on wood, wherever our policies vary from a product's label instructions, always follow the label.
What Type of Floor Is Best?
It depends on the room where you want to install the floor. Is the room "busy" with a lot of traffic? Then, maple would be better since it is harder than oak. Usually, you would want to check the Janka Hardness Scale, which gives you the hardness of the wood. Also, the type of finish and number of coats play an essential role and can have an impact on how well your floor would maintain in high traffic areas.
What Color Will Work With My Room?
Usually, darker colors make the room look smaller and show traffic patterns quicker. Natural and lighter colors (maple and oak being the most popular) give an open, airy feeling making the room appear larger. The floor should always balance the furnishings and accessories present in the space giving the room a unique personality
Due to the constant moisture, the bathroom is the worst place to install a wood floor. However, if you decide to install it in your bathroom, make sure you have plenty of carpets and wipe up the water all the time.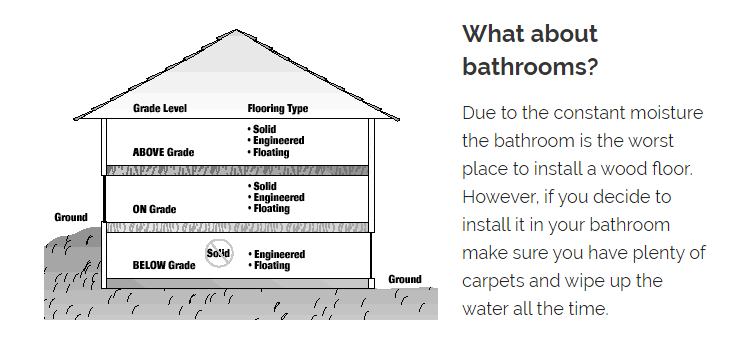 Darker colors, in combination with carpets, work best for the living room. However, keep in mind that the darker the color, the smaller space would appear.
If you still do not know which type of floor you need, please contact us via phone or contact form. Thank you for your interest!